Suicidal Langata police officer Manyasi has vowed to kill at least two people – Sergeant Sirma and Constable Tracy whom he blames for his woes.
A depressed Manyasi through his notes on social media decried being frustrated by his bosses at Langata police station.
The suicidal cop said he had worked nonstop for two years after he was denied leave by Sergeant Sirma who has only been taking him round and round.
"The last time nlikuwa off duty langata ni 2019 July, Sirma frustrated me throughout, kuomba leave nliambiwa file yangu haiko Lang'ata, nliendaga Nairobi area kutafuta na haikuwa wakasemalabda iko gsu penye nlitoka… haikuwa. Kutafuta file sikazi yangu, police has the best communication system second to kdf plus thy have riders… they could alternatively give everyone file yake so that wasiniambie "enda tafuta file ndo ukujie leave" 2019 mbaka leo no off no leave, kazi unafanyia nani? familia muhimu," Manyasi lamented.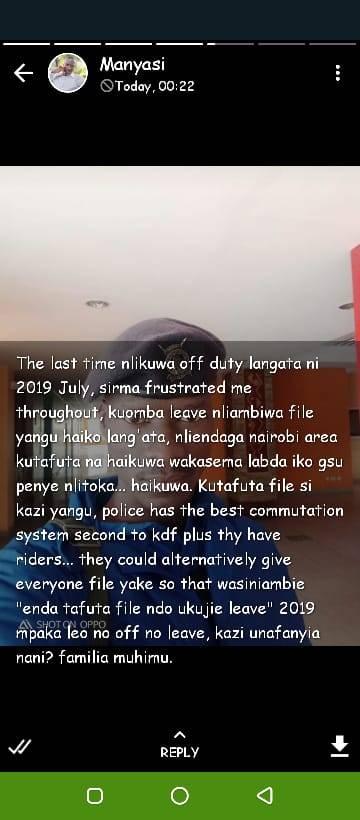 The depressed officer further said that he knows he will die soon, but stressed he won't go down without the two ladies who are tormenting him – Sergeant Sirma and Constable Tracy.
"I know I'll die soon but some people have to pay for it, Lang'ata police turned me into a laughing stalk… sgt sirma you really messed up my life, pc/w trecy you're a devil in human face. am hating everything," wrote Manyasi.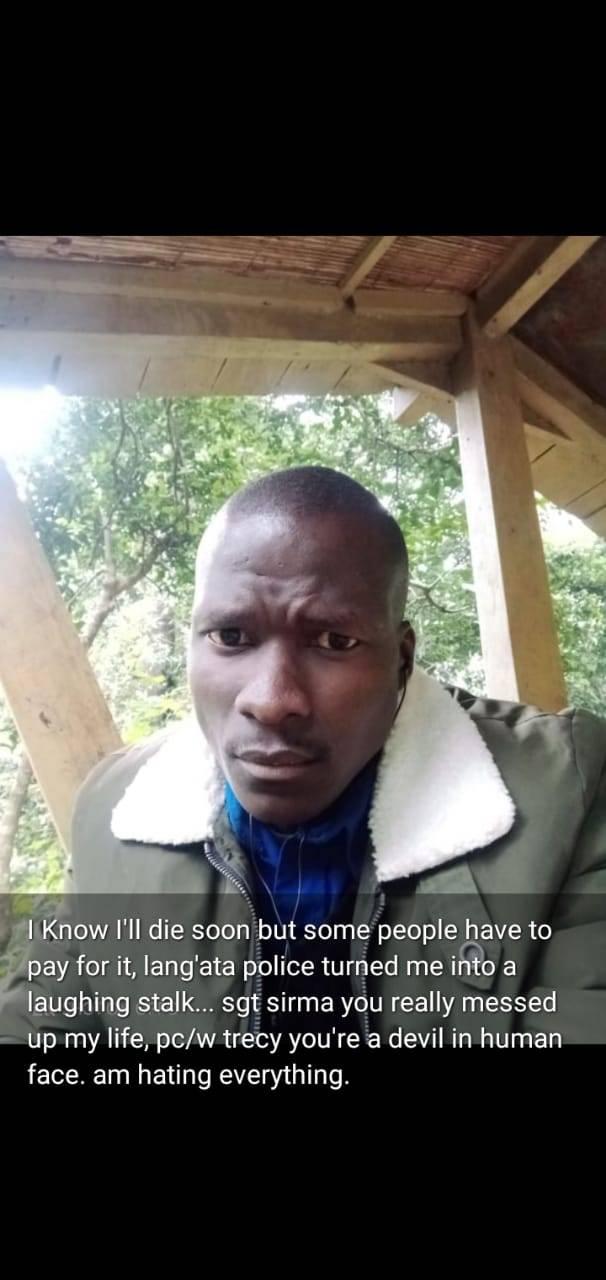 Manyasi also revealed that his wife left him and took everything from their house. He appealed to her to return the household items.
He also blamed Sergeant Sirma for the disintegration of his family because she denied him the chance to spend some time with his loved ones.
"Can someone tell the musyoka's to tell their daughter to bring back everything she took from my house.. thy can keep kid. Sirma i still believe you're the source of my problems. I wish could have allowed me to visit my family regularly, you insulted me twice nikiwa kwa ofisi yako adi ukanitusi nipeleke kwa OCS wakati ata pombe sikuwa nakunywa. I explained niko na loan kwa account niko na 1&2 ulisema "wewe ni mchinga uniambia nikupeleke kwa OCS ndo uende kasi" I will not say this woman was innocent, she was violent," wrote Manyasi.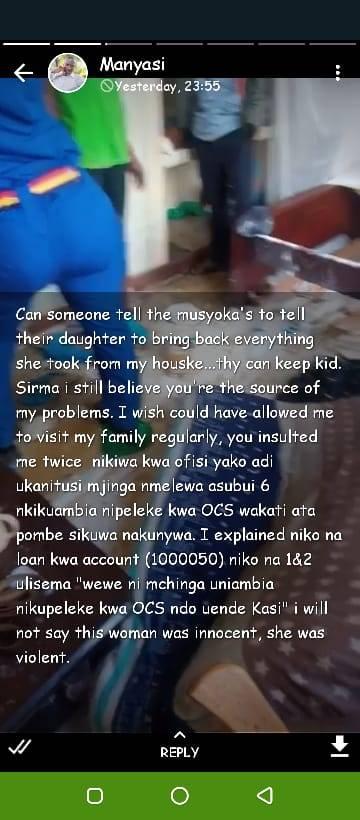 The suicidal Langata police officer further blamed police bosses for being incompetent and turning a blind eye to the suffering of junior officers.
"Wakubwa wa Lang'ata ni pesa wanataka tu, hakuna muda ya kushugulikia askari, ocs is the worst…. very arrogant and i strongly believe he doesn't deserve the office. Amelewa madaraka."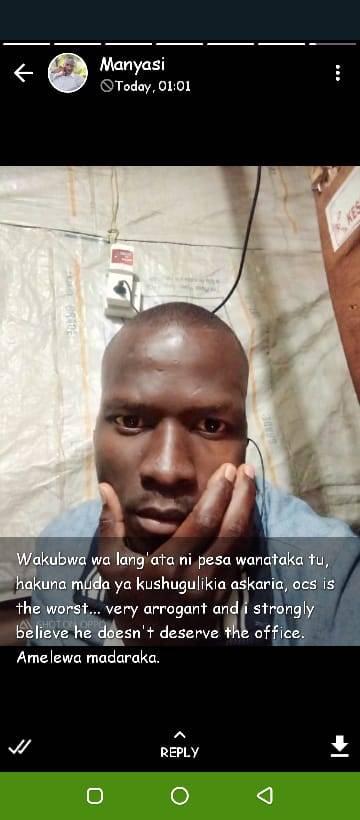 Depressed junior police officers have in the recent past taken to social media to express their frustrations with the national police service.
A while back a junior female cop caught the attention of the nation after she took to social media to decry sexual harassment from senior police officers.