Sleuths from the Directorate of Criminal Investigations (DCI) on Tuesday, September 7, intervened after suspected 'Wash Wash' suspects beat up a colleague who flaunted wealth in a video.
In a statement, the DCI asked Kenyans to provide information that will lead to the arrest of the group after videos of the fight went viral.
One of the videos that went viral last week, showed an unidentified man flaunting bundles of money and expensive liquor while he was surrounded by women.
However, after partying and spending the illegal loot he had acquired the man was ambushed and assaulted by three other men who the DCI termed as his accomplices.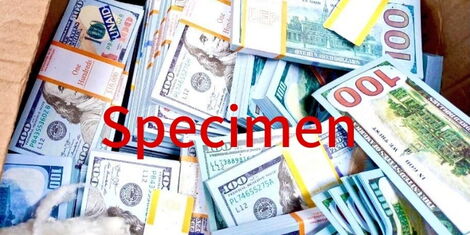 Over Ksh 37 billion fake currency seized on May 4, 2021.
According to the DCI, the first suspect was beaten by the three men who stormed his house and accused him of exposing their illegal trade through the video.
"After he went partying and flashed a bunch of notes flanked by a bevvy of beauties, revealing their dirty dealings. The accomplice who appeared intoxicated in a drinking spree, flaunted the money as he promised the seemingly excited women, an adventurous and fun-filled trip to the coast," the DCI's statement read in part.
"Their plans however went up in smoke and ended in premium tears for the man, when his accomplices learnt about his escapades. They stormed his house and descended on him mercilessly accusing him of disloyalty, betrayal and not 'working smart," it continued.
The DCI called on members of the public to provide information that would lead to the arrest of the four men in the two video clips as they intensify the fight against the illegal wash wash business.
On Thursday, September 2, during an operation by DCI's Transnational Organized Crime detectives at an apartment in Nairobi's posh Kileleshwa estate three persons suspected of money laundering were arrested.
This came amid public outcry after an expose by blogger Edgar Obare. The DCI said the suspects were found in possession of assorted fake local and foreign currencies.
Detectives also found equipment they believed to be used in the production of fake currencies. The three are currently being questioned even as investigations gather pace.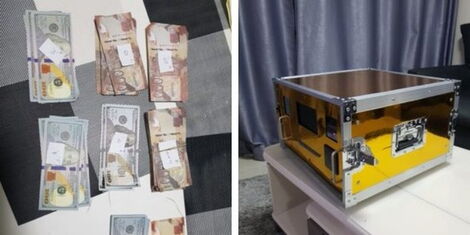 Items recovered from suspected money launders by DCI on Thursday night, September 2, 2021
FILE
arrest
suspect
illegal
fight